News & Notes
---
June 18, 2009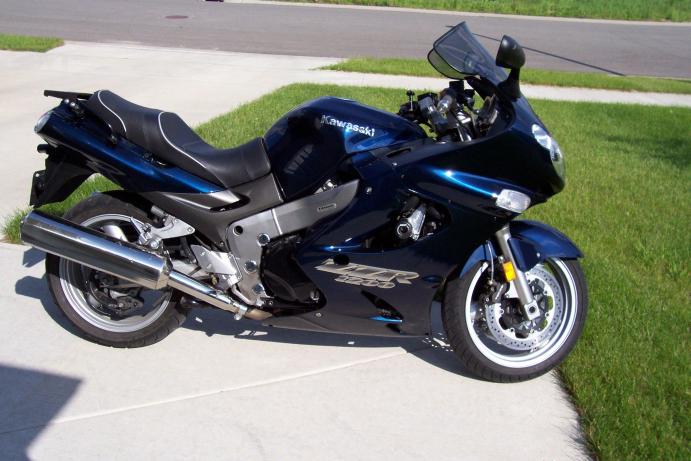 So I'm back to trying to get my motorcycle pages updated. Third time's a charm, I guess...
I suppose I should update the ZZR story. The insurance company totaled the bike even though the only damage was to the plastic body pieces. So I bought the bike back from them, used the extra money to buy a complete set of body panels from a 2005 ZZR and the few other pieces damaged in the crash, and was still able to pocket a few hundred dollars. On top of that I ended up with a nearly complete set of spare body panels, even if a few are scuffed a bit. The only parts I am missing are the front cowling which was smashed pretty good, and the tail section which I sold to another ZZR owner. I even have a spare set of wheels complete with sprockets and brake rotors that came with the replacement body parts. So all in all, I think I came out ahead on the whole deal.
My riding has been severely limited the last couple of seasons. With the new addition to the family, I've been staying nearer to home and haven't been on many overnight trips. Still, I like to get out for a day trip when I can. Since they are few and far between I really look forward to them. This past Sunday I was able to get out and made plans to meet a riding buddy in Wisconsin for a good day of nice twisty roads. I was late since I had a little too much fun on the way over, but we still had a full day ahead of us.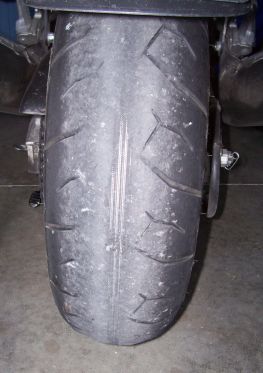 So imagine my surprise when I walked around the back of the bike and saw the cords showing around the entire circumference of the rear wheel! It hadn't looked like that when I left home, and I'd never had a tire disintegrate at such an alarming rate. Being 150 miles from home didn't help matters. I was ready to try and limp home, but my friend convinced me not to try. So we eased the bike to Westby, WI then beelined back to my house two-up on her bike. The rest of the day was spent traveling back to Wisconsin with my truck and trailer to pick up my bike. Not how I envisioned the day.
The worst part was that it was Melody's birthday and she had been nice enough to let me go out for a ride knowing that the next several weekends were tied up and I wouldn't have another chance to ride for quite some time. So the plan was for me to ride during the day, then get back home in time to take her out for a birthday dinner. Instead, most of the day was spent with me traveling back and forth to Wisconsin. So needless to say, I've got some making up to do.
---
January 19, 2008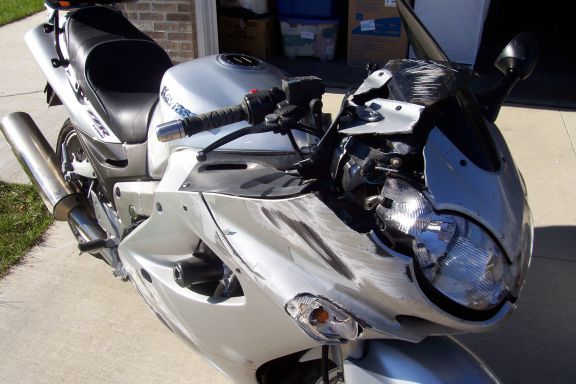 Once again I've gone a long time with no updates. I'm currently migrating over to a new web-hosting service and trying to update all my pages. On top of that, I've been completely swamped with house projects. Because of all the work going on, I haven't been able to start collecting the parts I need to repair the ZZR after my late October mishap. A really minor low-side that resulted in a lot of expensive plastic damage thanks to a curb. As for me, all I got was a skinned knee. Hopefully, once all the rest of the projects are complete, the ZZR will only require the replacement parts to be bolted on before it's ready to roll.
---
November 24, 2006
Welcome to my family members who may not have been here before. My journals and photo albums are under the Journals link in the banner above. Hope you enjoy them!
---
August 14, 2006
What a summer so far. The house projects haven't really lightened up. I just finished building a deck on the house, and still have a patio to build before the snow flies. Even so, I've been able to do a fair amount of riding. My annual trip to Missouri was a blast as usual. Jill and Lynn were able to join Melody and me up in the U.P. for the 4th of July this year. That was just a perfect weekend. At the end of July, I was able to spend a week in the Smoky Mountains. That was absolutely incredible. Scouting for Wildcat has been lacking a little, but I plan on doing some cramming the next couple weekends. All in all, things are coming together nicely.
- Cam